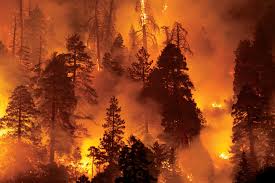 NAPA HAS TOO MANY TREES
Ask any forester. She will tell you it's true. Napa, like the rest of the west, has too many trees.
Tree density per acre varies from the Rockies, the Northwest, the Sierras to Napa Valley. Google "How many trees per acre a healthy forest should have," and you'll find that every area of the West currently has 5 to 10 times more trees per acre than there were when Lewis and Clark reached the coast.
According to forester, Ralph Osterling, our Western hills should have around 80 to 100 trees per acre. Currently, we have somewhere between 500 to 800 trees per acre.
This is unhealthy.
That's why this watershed fight is so wrong. First: Citizens defeated Measure C. To re-create "Measure C light" by administrative means, makes a mockery of democracy. It's unethical to favor partisan groups who lost at the ballot box.
Second: The abject ignorance of those advocating for increased "canopy cover" is not only silly, it is "unnatural" and actually dangerous to a healthy environment.
Some advocate increasing tree canopies from 60% to 70% or even 90%. This is counter productive. In an email, forester Ralph Osterling (Google him) wrote,"
The forest should be a mix of openings, brush and trees. Oak grassland forests types should have less than 50% crown cover which translates to per acre about 5 trees with 100' canopy and 62 trees with 30' canopy. Now, take those tree counts and cut them in half to meet 50% crown cover.
Continuous tree and brush canopy equals continuous hot fuels and fires as we witnessed.
The ordinance should require tree and fuel removal not the reverse.
Eliminating trees and brush will increase ground water and springs will reemerge.
If we want to protect our watershed, what we need is a realization that in order to prevent another ecological disaster, we need proper forest management–not additional canopy cover.
We don't need an ordinance which disincentivizes land owners from managing their over-dense forests—and prevents people from cutting trees over 5 inches in diameter, or limits forest management to 10% of trees per acre.
We may need to eliminate 50% to 80% of the trees per acre. Not clear cut, mind you. Judicious thinning of excess growth is what is needed.
According to Lynn Webber's History of the Napa Valley in 1824, when Altimura, first laid eyes on the Napa Valley, he deemed it perfect for cattle because there was no underbrush for cows to get tangled up in.
Lighting occasionally caused "natural forest fires," but more important, (according to Henry T. Lewis in his seminal work, Patterns of Indian Burning in California) Indians burned on a regular basis. They did it for a myriad of reasons; from crop management, to making it easier to find acorns. They did it every year.
That's why when George Yount arrived in 1834 there was almost no "understory" to fuel fires.
The understory that is clogging our forests, not only robs nutrients form normal healthy trees and blocks sunlight, this same understory provides a "step ladder" effect in the event of fire. Fire climbs up the little stuff an burns the bigger trees. This is why talk of 40% "shrub retention" is not only ludicrous it is dangerous–as we've recently experienced.
Cal Fire has now recognized the importance of healthy forests to prevent catastrophic conflagrations.
According to the Mountain Area Safety Task force: The problem fire protection officials face is that not only does green vegetation burn, the forest is overstocked — 100 to 200 trees per acre, where a healthy forest has 40 to 60 trees per acre. Thinning green vegetation not only reduces the fire danger, it also frees up resources for the remaining plants and trees, making them more healthy, restoring their vigor and making them more resistant to fire as well as infestation by bark beetles and other parasites.
A secondary benefit from healthy forests is more water for our rivers and streams.
An ancient Redwood can soak up from between 1,000 to 2,000 gallons per day. A mature oak tree hundreds of gallons per day during the dry months. Because our Western Hills have trees of all types and all ages, no one has been able to give me an accurate account of what an average acre of madrone, pine, oak, Douglas firs, Redwoods, et al soaks up daily. Yet, if we have 5 to 10 times too many trees per acre, that means 5 to 10 times as much water is being soaked up by trees and not going into our springs, creeks and rivers. (Trees shut down in October, which is why we see puddles in creeks and small increases in river flows—though there has been no rain all summer long).
Lastly, let's stop all talk of "we have to do our part to fight climate change." Carbon sequestrations? Due to the Ag Preserve, we have done more to combat climate change, and enhance carbon sequestration than any county in the country.
When we came here in the '50's zoning was one home per acre! The Ag Preserve limits urbanization to one home per 40 acres on the flat and one home per 160 acres in the hills.
Now we have 45,000 acres of vines (all which sequester carbon) instead of 45,000 homes, which would have been perfectly legal.
This restriction means rural land owners have done more than their share to combat climate change.
Lastly, no development over 30%? Thirty percent of Napa County (170,000 acres) is over 30% slope. But (by definition) that means 100% of the land in the hills! That effectively halts almost ALL development in the hills. If that isn't a taking, what is?
As to setbacks from the tiny dry creeks that begin in the hills, my father's home is on 13 acres. If we followed the proposed setbacks we would have less than two acres usable.
How much more do you want us to give up?
We all want a healthy watershed. Current rules and regulations have made that possible. The beauty you see today is because of policies rural people abided by yesterday.
What we've done is working. The proof is in the pudding. Please stop discriminating against country folks. Rural lives matter!